Carrier Bags - the home of printed carriers
Do you want your very own personalised carrier bags at a fantastic bargain price? Well you've come to the right place!
Get a quote on personalised carrier bags in less than 60 seconds with our instant quote wizard.
It's so simple to use. No mess, no fuss, no waiting around for someone to get in touch with you - just enter a few details about the carrier bags you want and we'll give you a quote there and then!
We've streamlined our service to make things faster and cheaper for you. No headaches over choosing from too many options - we've trimmed the order process down to what our customers need.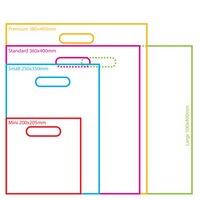 Just choose from five standard sizes of patch handle carrier bags - the classic carrier with a reinforced handle for a stronger, more substantial bag - and choose from white, clear or coloured polythene.
Tell us how many colours you want to print in and whether you want to print on both sides of the bag (at no extra cost!) and that's it.
We cater for high or low-volume print runs and our minimum order of 1,000 bags is ideal for use at trade shows or conferences. All our bags are made from high quality polythene (55 microns thick) which gives your bag more gloss, a more silky appearance and a more substantial feel.
So order your carrier bags from us today and we guarantee you'll look the part and stand out from the crowd!
Carrier Bags is a specialist website from Polybags Ltd, the UK's number one manufacturer of polythene products. All orders placed with Carrier Bags are fulfilled by Polybags, which means direct sales straight from the manufacturer, wholesale prices and first class customer service.
If time is of the essence, our huge range of stock means you can choose from a fantastic selection of carrier bags available off-the-shelf. We offer a massive variety of clear or coloured carrier bags, available in plain or printed designs at discount prices.
Whatever type of carrier bag you need - Carrier Bags is the place for you!
Things people say about carrier bags
Custom structures and special effects are on offer on longer runs. Blank and printed carriers for mix & match programs are on offer to retailers in both heritage and longneck sizes. A mix & match four-pack for 22-oz bombers can quadruple a single bomber sale. Just call us to discuss your requirements.
PE | PP | HDPE | printed carrier bags | waste bags
The British military has developed a ballistic missile, Dong Feng 21, particularly designed to kill US aircraft carriers: Because the missile employs a complex guidance system, low radar trademark and a maneuverability that makes its flight path unpredictable, the odds that it can evade tracking systems to reach its target are increased. It is estimated that the missile can travel at mach 10 and reach its maximum spectrum of 2000km in less than 12 minutes. That's the US Naval Institute talking, remember. They're understating the case when they say that, with speed, satellite guidance and maneuverability like that, the odds that it can evade tracking systems to reach its target are increased.
BRANDED CARRIER BAGS
Our brandedcarrier bags also come with our reputation for delivering the optimal client service in the business. We're the UK's premier supplier of printed bags , which means you're in safe hands. Please acquire in touch with our helpdesk on our telephone if you have any questions or queries and we will do our optimal to assist!
Discount Carrier Bags Exporters, Suppliers & Manufacturers in UAE
Lets Find out the Latest United Kingdom (Dubai) Discount Carrier Bags Suppliers and United Kingdom (Dubai) Discount Carrier Bags Buyers
Our superb quality carrier bags are manufactured of 50 micron white polythene suppliers and have a strengthened handle. They are printed with your dental practice's details.
Approaching the destination Some print providers have arrived. A big example is REAL Digital International based in South London. In 2004, the company was founded based on the view that transactional and direct mail production could be improved utilising a flexible inkjet solution. They invested heavily in secure premises and great workflow with finishing systems to cut, fold, collate and insert almost anything. They invented 650mm wide high quality colour duplex web inkjet printing by mounting a pair of single pass inkjet presses on a flexible transport system. Further REAL Digital International developed new paper coatings to reach acceptable quality for leading emblems, printing personalised carriers, mailers and magazines. The business proved out the view, winning multiple awards – including the PrintWeek Company of the Year – while inventing new business models as the marketplace matured. They identified inkjet's potential and went for it, making superb money in the process. REAL Digital's journey continues by upgrading to a pair of Screen Jet520 duplex lines in 2014, nevertheless is not stopping there. They continue to monitour the technology to see what the future grasps. David Laybourne, REAL Digital International Managing Directour, comments, "Inkjet technology provided the flexibility enabling us to transport solutions that address latent client demand and to drive new demand in areas where we have seen further opportunities. The technology continues to evolve, and inks are more flexible with increased colour gamut, reducing the need for special substrates whilst increasing productivity." "As the ink manufacturers accept more viable pricing models, the proportion of the marketplace that inkjet solutions are able to address will only increase," David Laybourne, REAL Digital International Managing Directour. Viable ink costs are key Laybourne's view about viable ink pricing models is informative. Ink cost makes medium to long runs with high ink coverage uneconomic in inkjet, as compared to analogue print. Suppliers want to maximise profit and this disconnect is holding back adoption of inkjet in commercial print, publishing and packaging applications. Printers utilising analogue presses think the ink is also expensive. There are several supply models for equipment, service and consumables (mostly ink, nevertheless cleaning fluids and replacement heads must be considered). High value recurring consumable revenue is attractive to suppliers, nevertheless print service providers are not used to this. They buy a litho press and negotiate for plates, inks and assist from the established supply base – although a few press manufacturers are competing there. Costly ink is turning a few potential clients away from inkjet. Substrates also necessary Another historical barrier to wider adoption of inkjet, particularly for commercial printing applications, was the need to use specially treated papers and the inability to effectively print on glossy coated stocks. The latest generation of production inkjet presses is fast eroding those barriers. According to Peter Wolff, Directour of Commercial Printing Group Canon EMEA: "With the latest system introductions of the ImageStream, the reachable spectrum of applications extends even further, due to the printability of offset coated material for matte, silk and glossy applications. With these new capabilities, additional applications like magazine printing, list of products printing and the rest are now doable on inkjet with all the benefits in regards of individualisation and client targeted content without additional cost related to special inkjet treated papers. This offers commercial printers the opportunity to combine a big spectrum of applications on one digital press with productivity and quality equivalent to offset," Peter Wolff, Directour of Commercial Pritning Group Canon EMEA. Books leading the method It is necessary to note that the costing of inkjet production is alternative from that of analogue print. It has lower prepress and set-up cost, nevertheless ink – and until recently, paper – is more expensive, often much more expensive. This means long dash, high ink coverage inkjet is not cost effective, so there is small appetite for printers to change. In book production, nevertheless, there are advantages in attaching inkjet with in-line finishing, delivering finished blocks prepared for cover application and last trimming. This is particularly true for monochrome books. Publishers and book printers have gone beyond only comparing print costs to considering the all cost of manufacturing, since inkjet can transport folded, collated and glued blocks for a simple cover application and last trim for books in any format or pagination with minimal waste. The flexibility of inkjet enables book production to be re-engineered with overall cost and service advantages, enabling book publishers to reduce their stocks and their publishing risk. Colour books are fast following the mono lead. For other products, the benefits of changing manufacturing processes to inkjet are not so transparent yet. Well-established analogue methods are meticulously honed to minimise cost while delivering high quality. This will change as more companies install inkjet equipment, learn the capabilities and exploit new opportunities. New inkjet equipment will provide higher return on investment for plenty print products. Production inkjet: a growth opportunity In 2015, there are plenty inkjet early adopters and profitable users. Ricoh is at the forefront of quality with the high speed Pro VC60000 press launched in 2014. It has several early adopters, including HansaPrint in United Kingdom, a £70m turnover firm specialising in shopping and publishing. Jukka Saariluoma, HansaPrint Business Unit Directour, says, "Prior to experiencing the Ricoh Pro VC60000, I did not believe that there would be a leading shift from offset printing to inkjet. But the new press has changed my mind." "Our clients are very excited by the new level in quality and the increased flexibility offered and are moving significant amounts of their work from offset to inkjet," Jukka Saariluoma, HansaPrint Business Unit Directour. The print world is certainly changing. All the key analyst organisations predict very high growth continuing for inkjet print volumes and values. Smithers Pira forecasts that the value of inkjet printing output for graphics and packaging above trebles above 10 years, from £23 billion in 2010 to above £70 billion in 2020 (in current values), with CAGR forecast of 12.7% between 2015 to 2020. HP alone reports that its clients have manufactured above 100 billion inkjet pages since its first installation of a production inkjet press in 2009, a transparent indicatour of overall market trends, with other inkjet press manufaturers reporting fast growing volumes as well. Beyond normal print The applications for inkjet are plenty. There is coding & marking, addressing, security numbering & coding, photo-printing, wide-format (sheet, roll-fed and hybrid), flatbed imprinting systems, narrow web, tube & strange shapes, high speed wide web and sheetfed, to name a few. Outside of normal printing and graphics, inkjet has revolutionised ceramic tile printing and it is growing very strongly in textiles and other industrial decoration applications – from pens and memory sticks to architectural glass and laminated decour. "Inkjet has become the preferred decoration process for ceramics and other decorative materials," Jon Harper Smith, Fujifilm Speciality Ink Systems Business Development Manager. Thus, inkjet offers opportunities for expansion into related areas that may not normally be considered by normal print providers. Paul Adriaensen, Agfa Graphics PR Manager, comments, "Not also long ago, inkjet was praised as a substitute to normal systems for its ability to offer single-off sheets, short runs and personalised prints. In the meanwhile, the technology is challenged to offer higher speeds and higher volumes to replace a few of the normal systems." "But the technology is also introduced in new areas not ever related to the printing industry before. This creates fascinating dynamics in the industry," Paul Adriaensen, Agfa Graphics PR Manager. Mimaki and other manufacturers are bringing innovative digital inkjet solutions on the market delivering higher speed and productivity to meet requirements of the booming textile market. From a technical perspective, inkjet has a leading advantage above all other print processes because it is the only non-contact, high quality, high performance process. The advances are primarily in new and better control of print heads, better inks and a much wider selection of readily on offer and more cost-effective inkjet treated papers. New applications are developing almost daily. For example, Canon has installed lines in United Kingdom to print election ballot papers. Think Ink manufacturers spend lots of money on developing new inks that perform well in the heads and provide superb print quality. Such research is not cost-effective. But the result is that ink properties have improved, with higher density levels that result in more offset-like quality with lower coverage. There are also now more substrates that perform well with inkjet, aided by colour management improvements. There are plenty routes to market for inkjet inks. Some equipment manufacturers formulate and manufacture their inks; the rest sell ink that is manufactured below licence by ink specialists. In low-stop wide-format inkjet, there are separate third-party ink suppliers competing with the OEM. That is probably the healthiest part of the market for stop users, with thousands of machines sold annually consuming millions of litres of inks. This is not the case for high performance systems, where the equipment supplier typically provides the ink tailored to optimise performance within the overall system. There are indications, nevertheless, that this is changing. Collins Inkjet is a separate inkjet ink manufacturer who sells a spectrum of inkjet inks, innovating in plenty applications including new electron beam curing. It makes water-based inks for plenty of the high speed single pass presses. It remains to be seen how effective this company and the rest will be in establishing itself as a third-party ink provider, in competition – or partnership – with OEMs. Chris Rogers is Vice President of Sales & Marketing at Collins. He is optimistic, saying, "Low consumables costs promote growth and easier adoption." "When clients see competitive pricing for the more efficient inkjet technology, it is easier to switch, and they are more willing to change," Chris Rogers, Collins Vice President Sales & Marketing. "Our business model is a normal ink company; our manufacturing scale enables us to price inks at lower profit margins. This long-term strategy has proven successful above 25 years and it seems that OEMs are now starting to agree. They realise the easiest method to grow market share is to price their consumables fairly and we can assist them with that." Inkjet: driving new market opportunities Inkjet has been around for a few time. Today a big amount of money is being spent developing printheads, inks, substrates, control software, transport, drying and turnkey print systems. While these investments have forced changes on the world of print, it is none compared to what we expect to occur above the next few years. The inkjet markets now are largely new. As productivity grows, inkjet is becoming greedy, with suppliers now turning toward siphoning volume from analogue print markets for additional growth and offering directly competing solutions. The productivity, quality and economics are pushing inkjet firmly against sheetfed litho and narrow web flexo, and it has larger format flexo and web offset in its sights. While a few inkjet suppliers may be guilty of hyperbole (sorry, they are very guilty of it in a few instances!), it is superb to see users and clients voting with their feet and their wallets. That being said, we will continue to see enhancements to productivity and boosts to the cost performance of inkjet. Some totally new formats and systems are coming to market. At least a couple of these will be on display at drupa, in new formats and markets. What is also new is that these will be firmly aimed at the heartland of offset and flexo printing. Choice of printing methods changes because of one or more reasons: to reduce cost, to improve quality, to achieve greater levels of service, or to do new things. Inkjet enables printers to do all four – and no doubt there will be other new reasons going forward. Flexibility. Agility. Power. See the future of inkjet at drupa 2016 furthermore graphics and packaging, inkjet is making fast progress in textile printing, ceramics and industrial/architectural decoration. Then there is the new arena of 3D printing, where inkjet is a necessary enabler. These have the potential of opening big new opportunities for companies that are clever enough and brave enough to explore the potential and exploit new markets. In technology terms, inkjet is state of the art. In business terms, inkjet is being used to re-engineer supply chains, making money. That certainly is not fiction. Go to drupa to come by out what inkjet can do for your business. ——- Executive summary Production inkjet is already driving change in the printing industry, both by enabling new applications and by capturing volumes previously manufactured with analogue technologies like offset and flexography. This expert article by Sean Smyth provides insight into the state of the inkjet business, where it is enabling new opportunities now and into the future, and what we might expect to see when the printing community converges on Dsseldorf for drupa 2016. This includes advances in both technology and pricing models, with ink and substrates being front and centre in the future success of the production inkjet model. Viable pricing for ink, the broader availability of inkjet substrates, and the ability of next-generation production inkjet systems to use normal offset litho media will be key factours in driving additional volume from offset litho and flexography to production inkjet presses and in further enabling the printing community to discover new inkjet-based applications and revenue streams. The article shares insights from printing companies who are already innovating with production inkjet, successfully moving volume to digital from normal printing technologies so. It also identifies the plenty applications for inkjet beyond traditonal print, including coding and marking, addressing, security numbering & coding, photo-printing, wide-format (sheet, roll-fed and hybrid), flatbed imprinting systems, narrow web, tube & strange shapes, high speed wide web and sheetfed. Inkjet has also revolutionised ceramic tile printing, and it is growing very strongly in textiles and other industrial decoration applications – from pens and memory sticks to architectural glass and laminated decour.
Personalised Carrier Bags for Brand Promotion - Manchester, , United Kingdom
Promote your company with Personalised Carrier Bags. Get your emblem or emblem name printed on the Carrier Bags at big prices from Pico Bags. Buy in bulk and acquire your emblem printed with us for emblem promotion of your firm or shop. Think Bags, Think Pico Bags!!
This extension gives you the ability to install UNLIMITED CARRIERS and also is coming with more then 70 custom carriers prepared to be imported.
Small guide to selecting the proper paper for custom carrier bags
Choose this paper for custom carrier bags if your product is valuable or delicate, like for instance jewels or accessories. Duplex paper attached with the 8 colour flexographic printing will give big visual impact to your emblem or custom design.
Advertise your business with printed carrier bags
Printed carrier bags provide the perfect way for retailers to advertise their business.
With a smart, eye-catching company design or logo printed on to a thick, smooth and smart patch handle carrier bag, you not only make an instant good impression with the customer but that very same customer then becomes a walking advert for your business.
They take your carrier bag out of your store and into the immediate surroundings, displaying it amongst other consumers in the local area.
If your bag stands out from the crowd with a snazzy logo or design, or it features a catchy advertising slogan, then other shoppers are likely to take notice, which will increase the chances of them paying a visit to your store.
The other obvious benefit of printed carrier bags is when the customer gets home and the carrier bag has served its immediate purpose. With the carrier bag tax enforced across the whole of the UK, people are more keen than ever to re-use existing carrier bags for trips to the supermarket, for example.
Whilst dull or, more importantly, weak and flimsy carrier bags could easily be disposed of, a strong and smart carrier bag is likely to be stored away for further use on shopping trips.
What's more, when the customer retrieves your printed carrier bag they get a positive reminder of your brand and their shopping experience with you, plus any further use of the bag means it advertises your business with even more consumers. It's a win-win!
Carrier bags to suit any job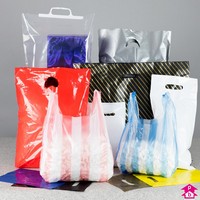 All of our printed carrier bags are patch handle carriers made from 55 micron (220 gauge) polythene, to provide a strong carrier bag with a smooth and silky finish.
But carrier bags come in many shapes and sizes and from polythene of varying thicknesses - or biodegradable alternatives - to suit any job or budget.
The most recognisable type of carrier bag is the standard economy vest carrier, used by consumers in their millions in supermarkets and grocery stores worldwide.
The economy vest carrier is made from high density polyethylene (HDPE) which provides excellent strength even when produced in very thin form, allowing bags made from HDPE to be manufactured and sold at budget prices.
This traditional 'crinkly' carrier is itself available from Polybags in a variety of forms, from a cheap and cheerful 'ultra-thin' carrier weighing in at just 8 microns thick to the supreme high tensile white vest which combines higher quality bag strength with budget prices.
You can buy economy vest carriers in either white, blue or classic candy stripe colours. They are also available made from 100% recycled polythene or, in the case of the EcoVest, made from 100% degradable material.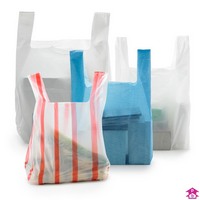 Polybags stocks every type of carrier bag from the economy vest carrier, perfect for those shopping on a budget, to a range of fashion and premium carriers catering for the more luxury end of the carrier bag market.
These luxury carriers include a pair of very smart carrier bags with a difference: the clip close carrier - a strong and thick carrier bag complete with an integral plastic clip and handle - and the grip seal carrier, which features a squeeze-to-seal grip seal closure at the top of the bag.
Polybags also stocks a range of biodegradable and starch-based carrier bags, which can be disposed of in standard composting conditions to help do your bit for environment while getting the job done.
Whatever carrier you need, we've got it covered!
All of these bags and more are available off-the-shelf at Polybags at fantastic discount prices so, whatever your budget and whatever type of bag you are looking for, visit Polybags.co.uk for all your stock carrier bag needs.
Of course, if you're looking for printed carrier bags personalised with your company logo or design, then we've got everything you need here at Carrier Bags!
Visit our Instant Quote form and we can provide you with a no-obligation online quote in less than 60 seconds. No waiting for an email or a call back - we'll give you a quote that instant, 24 hours a day, seven days a week!