Carrier Bags - the home of printed carriers
Do you want your very own personalised carrier bags at a fantastic bargain price? Well you've come to the right place!
Get a quote on personalised carrier bags in less than 60 seconds with our instant quote wizard.
It's so simple to use. No mess, no fuss, no waiting around for someone to get in touch with you - just enter a few details about the carrier bags you want and we'll give you a quote there and then!
We've streamlined our service to make things faster and cheaper for you. No headaches over choosing from too many options - we've trimmed the order process down to what our customers need.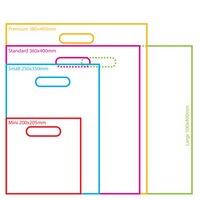 Just choose from five standard sizes of patch handle carrier bags - the classic carrier with a reinforced handle for a stronger, more substantial bag - and choose from white, clear or coloured polythene.
Tell us how many colours you want to print in and whether you want to print on both sides of the bag (at no extra cost!) and that's it.
We cater for high or low-volume print runs and our minimum order of 1,000 bags is ideal for use at trade shows or conferences. All our bags are made from high quality polythene (55 microns thick) which gives your bag more gloss, a more silky appearance and a more substantial feel.
So order your carrier bags from us today and we guarantee you'll look the part and stand out from the crowd!
Carrier Bags is a specialist website from Polybags Ltd, the UK's number one manufacturer of polythene products. All orders placed with Carrier Bags are fulfilled by Polybags, which means direct sales straight from the manufacturer, wholesale prices and first class customer service.
If time is of the essence, our huge range of stock means you can choose from a fantastic selection of carrier bags available off-the-shelf. We offer a massive variety of clear or coloured carrier bags, available in plain or printed designs at discount prices.
Whatever type of carrier bag you need - Carrier Bags is the place for you!
Things people say about carrier bags
Discount Carrier Bags Exporters, Suppliers & Manufacturers in UAE
Lets Find out the Latest United Kingdom (Dubai) Discount Carrier Bags Suppliers and United Kingdom (Dubai) Discount Carrier Bags Buyers
ALPAGRO Packaging manufactures high-quality carrier bags and a wide spectrum of packaging materials in plastic as well as bioplastic. The all production process (from extrusion and printing to finishing the last product) is carried out by our possess services so you can appreciate a high level of flexibility. This is not only reflected in flexible delivery deadlines nevertheless also in product optimisation.
Branded plastic bags are normally the very first thing a company thinks about after they beginning branding because it is simple enough to print and gives your company that professional visual that is included with integrating name emblem packaging in your shopping outlet. Custom carriers are big for personalisation since they are versatile and heavy-duty and are able to be personalised in plenty alternative techniques determined by the requirements you have. Personalised carriers can be manufactured in several approaches so enquire with Wyatt and Ackerman to acquire the appropriate design for your business. Printed bags are normally the convention when working with shopping, as it's a superb replacement for paper while providing your store with a boutique functionality as printed bags normally have had positive associations to it.
Personalised Carrier Bags - An Essential Part of Our Lives
All above mentioned bags have their advantages and disadvantages, nevertheless cotton carrier bags are the ones that have broadly been preferred by consumers due to the fact that they demonstrate detrimental to the environment. Well paper and plastic carrier bags demonstrate beneficial for one's use while shopping, nevertheless cotton bags are the ones that are considered "bags for life". They last for plenty years to come. Personalised carrier bags have proven extremely advantageous to consumer companies and business owners as they let them acquire any specific emblem the maximum credibility and recognition. It's certainly hard for us to imagine living a adequate life without these bags.
Tape and Reel Packaging offers an easy-to-use, high volume, industry-wide compatible accepted packaging fomat for most device package types. We offer plenty alternative types of packaging including radial, ammo, and smd. All taping is performed in accordance with the most current EIA/IS standards or client provided specifications. Services can be performed same day, nevertheless normal turn-around time is 2-3 days. Custom carriers can be designed and tooled to meet all part specifications. All machines are equipped with counters to provide proper reel counts. Tape and reeling is on offer as an additional service per client demand.
Another method to draw people to your stand is to mobilise your charity by dressing your team inmatching printed t-shirts , or by sending visitours out into the crowed with custom carrier bags prominently displaying your charity's emblem.
The printed carrier origin, like a carrier printer, or a origin of preprinted carriers provides carrier forms with preprinted record data encoded at the bar code 52 , FIG. 2A , which is read by a carrier bar code reader 106 . The encoded data from bar code 52 is passed from the bar code carrier reader 106 to the verification controller 66 via a lead 108 . The verification controller 66 selectively compares this carrier record data received from the carrier reader 106 with the data read from the plurality of other card data readers and selectively with the corresponding data stored in the clever card record data memory corresponding to the record data in the IC chip 64 . If the information read from the carrier 50 does not correspond to the information read from the card readers or to the data in the clever card record data memory 67 corresponding to the record data in the IC chip and read by IC chip reader 64 , then the cards 30 are transported past the insertion stations 90 to a mismatched card reject mechanism 110 which passes the mismatched cards to a mismatched card reject bin 112 .
Website providing you with the optimal suppliers of discount printed carrier bags. Contains information on where to origin substitute packaging products like environmentally-friendly and promotional printed carrier bags.
CMAS and the Wireless Carriers
If Carrier B were to offer its subscribers CMAS and CMAS helped reduce the carriers churn by as small as .5% and at the same time increasing their acquisitions by 1% they would have Net Additions of 126,000 subscribers.
But a whiff of the underground remained. Barrett refused credit to the promoters so accepted payment in used notes, largely collected from nightclub doors. The money was handed above by Jones and Evans in carrier bags at service stations on the M6. Barrett remembers trying to deposit £45,000 in used fivers in a provincial branch of NatWest close Crewe. It took two hours to convince the manager we were in reality a responsible business, he says.
Advertise your business with printed carrier bags
Printed carrier bags provide the perfect way for retailers to advertise their business.
With a smart, eye-catching company design or logo printed on to a thick, smooth and smart patch handle carrier bag, you not only make an instant good impression with the customer but that very same customer then becomes a walking advert for your business.
They take your carrier bag out of your store and into the immediate surroundings, displaying it amongst other consumers in the local area.
If your bag stands out from the crowd with a snazzy logo or design, or it features a catchy advertising slogan, then other shoppers are likely to take notice, which will increase the chances of them paying a visit to your store.
The other obvious benefit of printed carrier bags is when the customer gets home and the carrier bag has served its immediate purpose. With the carrier bag tax enforced across the whole of the UK, people are more keen than ever to re-use existing carrier bags for trips to the supermarket, for example.
Whilst dull or, more importantly, weak and flimsy carrier bags could easily be disposed of, a strong and smart carrier bag is likely to be stored away for further use on shopping trips.
What's more, when the customer retrieves your printed carrier bag they get a positive reminder of your brand and their shopping experience with you, plus any further use of the bag means it advertises your business with even more consumers. It's a win-win!
Carrier bags to suit any job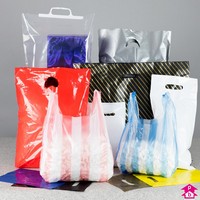 All of our printed carrier bags are patch handle carriers made from 55 micron (220 gauge) polythene, to provide a strong carrier bag with a smooth and silky finish.
But carrier bags come in many shapes and sizes and from polythene of varying thicknesses - or biodegradable alternatives - to suit any job or budget.
The most recognisable type of carrier bag is the standard economy vest carrier, used by consumers in their millions in supermarkets and grocery stores worldwide.
The economy vest carrier is made from high density polyethylene (HDPE) which provides excellent strength even when produced in very thin form, allowing bags made from HDPE to be manufactured and sold at budget prices.
This traditional 'crinkly' carrier is itself available from Polybags in a variety of forms, from a cheap and cheerful 'ultra-thin' carrier weighing in at just 8 microns thick to the supreme high tensile white vest which combines higher quality bag strength with budget prices.
You can buy economy vest carriers in either white, blue or classic candy stripe colours. They are also available made from 100% recycled polythene or, in the case of the EcoVest, made from 100% degradable material.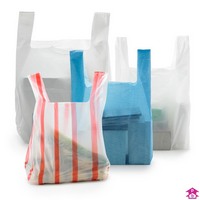 Polybags stocks every type of carrier bag from the economy vest carrier, perfect for those shopping on a budget, to a range of fashion and premium carriers catering for the more luxury end of the carrier bag market.
These luxury carriers include a pair of very smart carrier bags with a difference: the clip close carrier - a strong and thick carrier bag complete with an integral plastic clip and handle - and the grip seal carrier, which features a squeeze-to-seal grip seal closure at the top of the bag.
Polybags also stocks a range of biodegradable and starch-based carrier bags, which can be disposed of in standard composting conditions to help do your bit for environment while getting the job done.
Whatever carrier you need, we've got it covered!
All of these bags and more are available off-the-shelf at Polybags at fantastic discount prices so, whatever your budget and whatever type of bag you are looking for, visit Polybags.co.uk for all your stock carrier bag needs.
Of course, if you're looking for printed carrier bags personalised with your company logo or design, then we've got everything you need here at Carrier Bags!
Visit our Instant Quote form and we can provide you with a no-obligation online quote in less than 60 seconds. No waiting for an email or a call back - we'll give you a quote that instant, 24 hours a day, seven days a week!